Summit Outdoor
Dedicated to the design and manufacture of 1st and 2nd layer garments for law enforcement and military.
3 collections designed to fight all weather conditions thanks to our thermoregulation technology.
List of products by brand SUMMIT OUTDOOR
La marque de vêtements et sous vêtements thermo-régulants dédiée aux militaires, aux forces de l'ordre et aux passionnés d'aventure.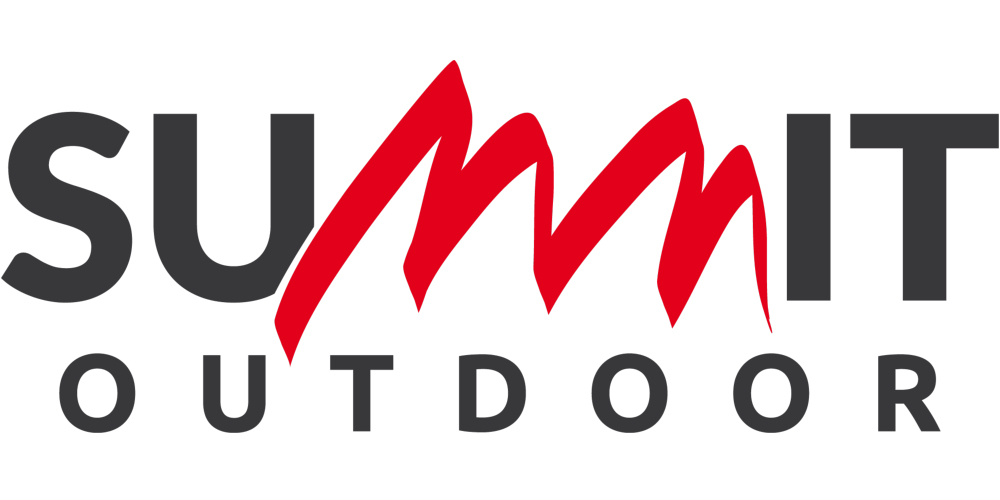 HISTOIRE & PHILOSPOPHIE:
Depuis plus de 20 ans notre société Esports Natura SL s'est dédiée à la conception et la fabrication de vêtements de sport pour les forces de l'ordre et militaires principalement sur le marché Français. En 2014, notre passion pour les courses de montagne nous a amené à rencontrer notre actuel partenaire pour la fabrication seamless de nos produits. Nous avons dès lors décider de mettre à profit sa grande connaissance de la confection sans couture pour développer une gamme de première peau thermorégulant à proposer à notre clientèle sous la marque Summit Outdoor®. La philosophie de Summit Outdoor® est de rester concentrer sur l'innovation et les nouvelles technologies afin de proposer à ses clients les produits les plus performants possible.
100% DESIGNÉ EN ANDORRE:
Les produits Summit Outdoor® sont conçus par une équipe de passionnés de sport de montagne en Andorre dans nos bureaux situés à plus de 1600 mètres d'altitude. Ce pays nous offre tout au long de l'année l'opportunité de tester nos vêtements dans un environnement naturel et sauvage.
100% FABRIQUÉ À BARCELONE - QUALITÉ, TECHNOLOGIE ET INNOVATION:
L'usine de confection est située à Barcelone, référence mondiale des villes technologiques, avec un puissant écosystème d'affaires dédié à la haute technologie. Cette ville méditerranéenne se caractérise par une culture d'innovation importante, avec de gros investissements en R&D, des startups futuristes et un complexe d'entreprises, d'universités à la pointe de la technologie. La ville cosmopolite espagnole a également une reconnaissance internationale pour être l'une des capitales de la mode du sud de l'Europe. Le centre de production est situé à Sant Pol de Mar, Maresme, un quartier historique avec une grande tradition textile.
TECHNOLOGIE THERMORÉGULANTE:   

- MAINTENEZ VOTRE PROPRE CHALEUR. Climatherm®, le tissu utilisé pour tous nos produits, est composé de milliers de microfibres creuses en polyester. Le vide à l'intérieur aide à créer une couche d'air isolante qui, par températures basses, empêche que la chaleur générée par les mouvements du corps ne s'échappe.
- KEEP YOUR WARM. THERMORÉGULATION TECHNOLOGY Climatherm®, a frabric used to make all our products, consist of thousands of hollow polyester microfibers. Vacuum in their interior helps to create a layer of insulating air that, at low temperatures, prevent the heat generated by the movement to leave the body.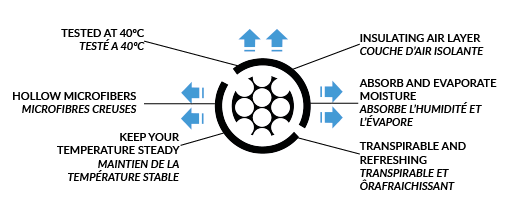 TECHNOLOGIE THERMORÉGULANTE. L'important n'est pas de savoir si le tissu fournit de la chaleur mais si il a la capacité à aider le corps à maintenir la chaleur qu'il génère. Le Climatherm® parvient à maintenir la température corporelle stable grâce à sa couche d'air isolante, qui empêche l'air froid de pénétrer directement dans le corps. Le Climatherm® absorbe et évacue l'humidité rapidement lorsque les températures augmentent.
THERMORÉGULATION TECHNOLOGY The important thing is not whether the tissue provides heat, but if it is able to help the body to maintain the heat it generates. Climatherm® is able to maintain the body temperature stable, by preventing cold air from penetrating directly into the body thanks to a layer of insulated air; but, if the exterior temperature increases, the moisture will be rapidly absorbed and evacuated.
TECHNOLOGIE DRY:   


TECHNOLOGIE THERMORÉGULANTE. Le même tissu, la même matière, les même microfibres creuses. La couche d'air isolante empêche que les conditions atmosphériques quelles qu''elles soient, n'affectent le corps. Le fil Climatherm® est super absorbant. C'est pour cela que la transpiration et les odeurs sont rapidement absorbées par la matière et s'évaporent.
THERMORÉGULATION TECHNOLOGY The same fabric, the same marerial, the same hollow microfibers. Layers of insulating air prevent the body of being affected by atmospheric conditions, whatever those may be. The Climatherm® yarn is superabsorbent, so sweat and corresponding oudours are quickly assimilated and evaporated by the material.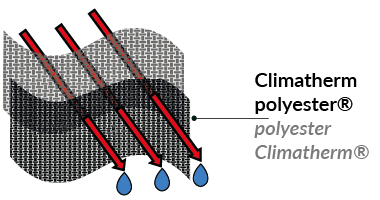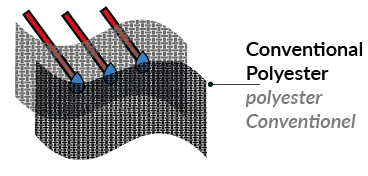 EXPULSE LA SUEUR. Les microfilaments Climatherm® sont super absorbants : tout liquide avec lequel ils entrent en contact sera rapidement assimilé grâce à la technologie de notre tissu. Le polyester creux dissipe l'humidité dans le reste du tissu pour la supprimer presque instantanément, plutôt que simplement s'en imprégner.
DRY TECHNOLOGY Climatherm® microfilaments are superabsorbent, so any liquid is quickly and intelligently assimilated by the tissue. The hollow microfilaments of polyester conduct he humidity throughout the fabric to eliminate it almost immediately, instead of simply being impregnated by it.
TECHNOLOGIE SANS COUTURES: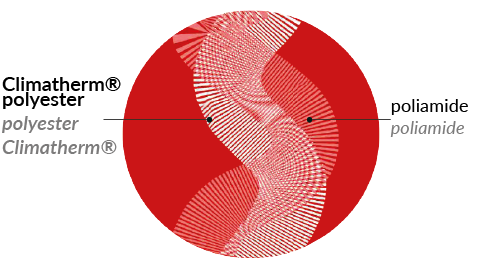 Tous nos vêtements sont fabriqués sans couture à partir de tissu tubulaire dans des machines spéciales. Le confort sans couture permet à l'utilisateur d'éviter toutes sortes de frottements, de sorte qu'il reste concentré uniquement sur son activité. Tous nos produits sont créés à partir d'une base de polyester Climatherm® pour offrir plus de thermorégulation et de longévité.
SEAMLESS TECHNOLOGY Our garments are made of composite fiber from micro tubes on special machines with more than 20 years of experience in this type of production. The comfort of our seamless production allows the user to avoid any kind of chafing or chafing, thus being able to concentrate we only think of physical activity. Our product is created onClimatherm® polyester bases, adding a small part of polyamide, to provide the user with thermal factor and durability.
TECHNOLOGIE 3D: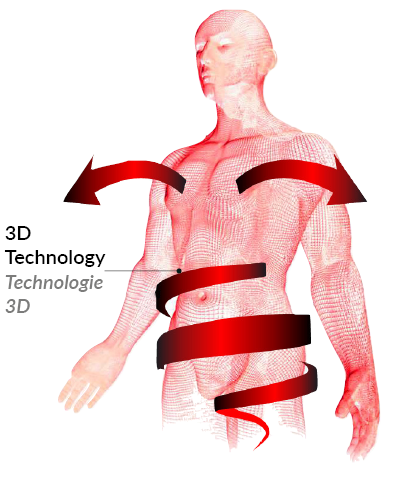 Nos produits sont fabriqués en fibre composite pour s'assurer que la confection sans couture soit plus ergonomique et épouse parfaitement la forme du corps. Summit Outdoor® dessine tous ses produits en 3 dimensions.
T3D TECHNOLOGY Our garments are made of composite fiber To ensure that the seamless fabric is more ergonomic and fully adapts to the shape of the body, SportHG® designs its products in 3 dimensions.
ANTIBACTÉRIEN • ANTI-ODEUR: 
Le fil Climatherm® est traité chimiquement pour permettre d'inhiber la croissance ou la prolifération d'agents bactériens nocifs pour l'organisme ou générant de mauvaises odeurs.
ANTIBACTERIAL•ANTIOLOR Climatherm® yarn is chemically treated to be able to prevent the growth or proliferation of bacterial agents that can harm the body or generate bad odour.
UPF + 40: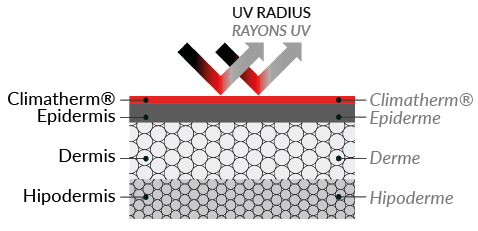 Le fil Climatherm® est traité pour pouvoir inhiber les rayons UVA, protégeant ainsi la peau du rayonnement solaire ultra-violet.
UPF+40 Climatherm® fabric is treated with UV-inhibiting ingredients in order to protect the user against ultraviolet solar radiation.